iTunes is the official way Apple offers to sync your iOS devices with Mac computers or Windows PCs. The company of the bitten apple offers the software completely free for everyone and in the following lines we show you 3 different ways to download iTunes for PC completely free of charge.
Downloading the latest version of iTunes is a simple task, but you have to take certain precautions not to end up installing a modified version with malicious intent. For this, it is best to only resort to official sites or download pages where we know that the software they distribute does not hide anything unusual.
3 ways to download free iTunes for Windows 10
Here are three different alternatives to download iTunes 64 bits for Windows 10 for free, safely, and quickly.
Download iTunes for PC from Windows 10 Microsoft Store

Download latest version of iTunes from Apple

Download iTunes for windows 10 from third party sites
Download iTunes for PC from Windows 10 Microsoft Store
The Microsoft application store is one of the best options to get iTunes for Windows 10 safely, quickly and that will also help you to always have the software updated.
To use this iTunes download mode you must do the following: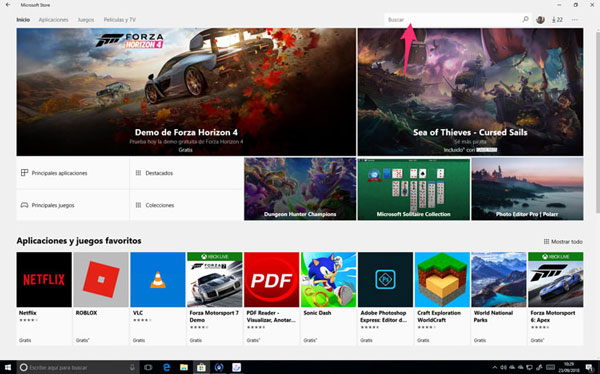 Click on the Start menu.

Find Microsoft Store in the list and click to access the store.

Identify yourself with your Microsoft account if you are not already and enter the word iTunes in the search engine. Click Enter to start the search.

Click on the iTunes icon to access the program tab.

Finally, click on the Get button and follow the on-screen instructions to complete the installation.
As you can see, using the Microsoft Store is a very comfortable way to install this application. In addition, using it you will have your software centralized and it will be easier for you to check for updates to new versions, etc, etc …
Download latest version of iTunes from Apple
Another highly recommended option is to go directly to the source of the software, that is, go to the Apple website to download the software installation file.
Basically you should do the following: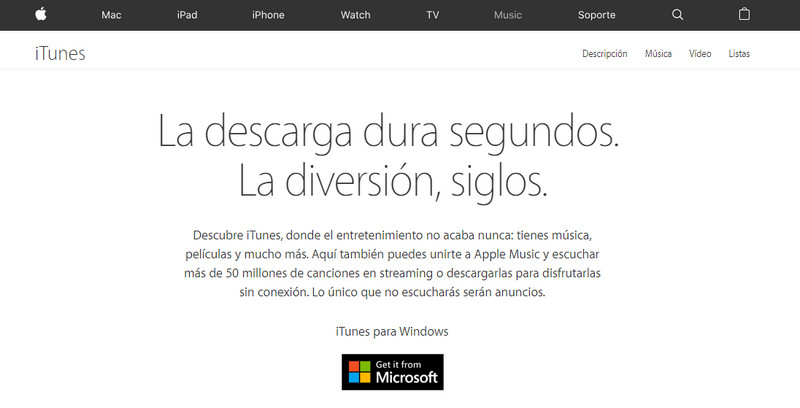 Access 

https://www.apple.com/es/itunes/download/

 from your Windows computer.

Click on the Download button (64 bits).

Once downloaded, run the downloaded file by double-clicking and follow the on-screen instructions to complete the installation process.
In this way, you ensure 100% that the software comes from its author and you will avoid any kind of scare when installing or using it because it does not come from a verified source.
Download iTunes for windows 10 from third party sites
This last option is the one that we like least of the three that we discussed, although it would not be fair not to talk about it. We are talking about resorting to pages of software downloads like Software, CCM, or similar.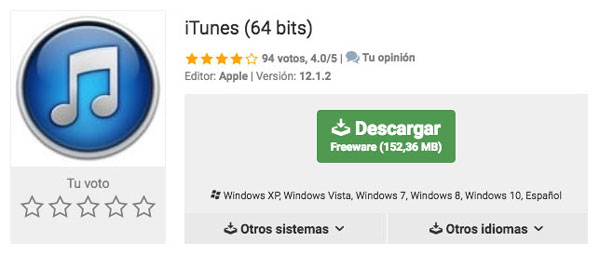 Of course, we are talking about completely legal download sites that have agreements with the authors of the software to distribute it through their own servers.
Our recommendation is that you just hold them if the rest has fizzled and you have no better choice to download iTunes.
What to do if I can't install iTunes on my PC
As a general rule, there are no problems when installing iTunes and the process completes successfully in seconds. If in your case this has not been the case and you have had problems finishing the installation of the software on your Windows 10 computer, here are some tips to try to solve the problem.
Error installing iTunes – common solutions
Uninstall the previous version: if you already had a previous version installed on your computer, go to Add or remove programs and completely uninstall iTunes and everything related to Apple software. Then restart your computer and try installing again.

Update Windows: Sometimes it might be important to introduce the most recent Windows refreshes for the establishment to finish. To do this, access Windows Update and follow the on-screen instructions to apply all pending updates.

Incidentally, impair antivirus and firewall: now and again it is conceivable that an antivirus or firewall is hindering the association between your PC and Apple's servers, so briefly handicapping them can help iTunes to be installed correctly in case it was failing.
How to install iTunes on Windows 10/8/7 / XP, fast and safe
If the usual solutions have not been enough, This software is capable of checking Windows and iTunes for problems and automatically fixing them to allow the software installation to complete smoothly.
The steps you should take in this case are as follows:
Download TunesCare from its official website and install it on your Windows computer.
2. Run the software and click on Fix iTunes errors.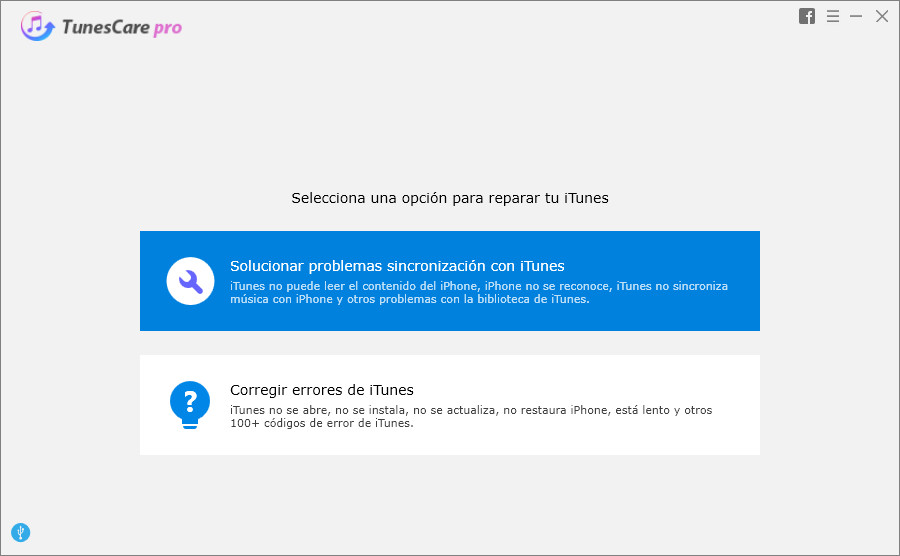 3. Click on Repair iTunes and follow the on-screen instructions to complete the process.
After a few minutes TunesCare will inform you whether or not it has been able to complete the repair and if so, you will have iTunes completely installed and ready to be used.