WampServer is an application that installs a web development environment on Windows .  With it you can create web applications with Apache2, PHP and MySQL database Furthermore, it is possible to easily manage your databases with phpMyAdmin tool that is part of package.
The program automatically installs everything you need to start developing web applications and is very intuitive to use. You will be able to tune your server without even touching the configuration files. All available in a menu that will be at your disposal in the Windows taskbar, always ready to be used.
How It Works
With a click on the WampServer icon, you have access to the main features of the program and can manage the services of Apache and MySQL database Additionally, you can put them online, offline, or provide access to all local only, install and change releases of Apache, MySQL and PHP, manage your servers settings, access your records and files.
The prefix WAMP is an acronym for Windows, Apache, MySQL and PHP – Perl – Python because it installs all of these tools and still delivers other items like PhpMyAdmin and all configuration options and management, making your life easier when mounting a web development environment on Windows.
The WampServer frees you from having to install and configure each of the items in a web environment in Windows so that your focus is to create, test and use each of them. Download and try.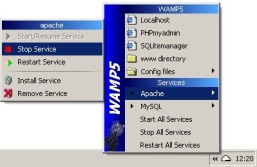 Download WampServer For Windows