Finally the day has been released (or re-released) BlackBerry Messenger (BBM) for iOS and Android , then the problems that occurred a month ago , after filtration. apk installer, so it had to be postponed its official launch.


Thus, from now you can download the application on both the App Store and on Google Play and even through the store Samsung Apps (in select regions) for free and without inconvenience, even after downloading and installing the Most users will not be possible to start using BBM because to avoid saturation problems of the company servers because of high demand, we have established a system of rank or waiting list for optimal launch.
Therefore, the procedure to have and be able to use BBM on iOS or Android is as follows: first download and install the application from the store, after we open and we ask you to enter our email will serve to divert our turn in line, after which, when we are in the first row we will send a message to the registered email address telling us that we can use the application.


Those who have previously registered BBM.com to receive alerts on the pitch, have the top of the line or waiting list, so it is likely that many of them can begin using BBM from today.
Meanwhile, those who have not done so must wait a while , which in fact, is not known exactly how much it will be, but should not exceed a few days or a few weeks most want to imagine.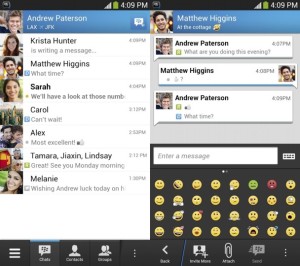 Key features of BBM to iOS and Android are:
– individual or group Chat for conversations with friends who have Android, iPhone and BlackBerry , with the ability to know that the messages have been delivered and read (or at least open) as well as see when your contacts are typing the answer.
– Power sharing attachments like pictures or voice notes in an instant.
– BBM Groups , in which you can invite up to 30 friends to chat together and share photo albums and calendars files with the group.
– Post a personal message, change the profile picture and update our status easily while instantly notifies our contacts in the section Updates .
Anyway, I think most users will have to wait, whether to use the messenger or several of his contacts also have and start taking advantage, for what will surely be the end of this month when it really While the experience can use BBM on iOS and Android .
BBM Messenger Download For Android