Each year, Rovio's Angry Birds plugged into new roles, and after the angry birds in Angry Birds Star Wars have made ​​a trip into space, it comes with Angry Birds Go! back to earth.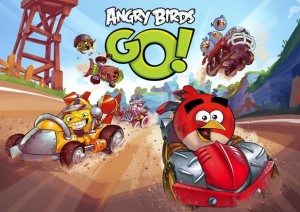 However, just the gameplay in Angry Birds Go! quite differently than we previously knew it from the game with the bird launcher, because this time it is more towards Mario Kart As in the classic games from back then are the Angry Birds characters (the pigs) in various racing cars and have to try as first to land in the target. In order to overcome the obstacles to collect special abilities and use them against the enemy. Especially the many levels and the ability to personalize the car to your own taste and expand, likely from Angry Birds Go! make a complete success. Moreover, we can see the Angry Birds characters in 3D for the first time.
Robio has a nice gameplay trailer released some of the game sequences and shows you wanting more. From the 11th December there will be Angry Birds Go! Free with Google Play Store give. We will report in time. So you should definitely our Facebook page and liken or on Google+ or Twitter follow.