How many times you did not feel like having a remote control for your computer so you can surf the internet, pause videos and do all kinds of task without being close to your mouse and keyboard? So Android Remote Desktop is the right option for you.
With this simple application for Windows, you can connect your Android device to your computer. Thus, it is possible to turn a smartphone or tablet into a replacement for your mouse and keyboard simultaneously.
When installed, use the Android Desktop Remote has no secret: the connection between your device and your computer is automatic. Made the connection, just use the screen of your device as a touchpad – if you want to access the keyboard, just click the icon in the upper left corner of the application for it to be revealed.
Connection into two parts
Although the whole process of creating the connection between the devices is extremely simple, it is important to warn you that you need, first of all, to have both the Android Software Remote Desktop on your PC as the app Remote Desktop Free on your Android. With both properly installed, just run the two programs.
There is no way to think of a simple and efficient way to control your computer remotely using Android than Remote Desktop. From the beginning, there is no bullshit: just run the application on your computer and your Android device for the connection to be automatically established.
Remotely control your Windows is as simple as it sounds: a touch screen, it is possible to reproduce the functioning of the touchpad of a notebook, with the other, the keyboard is displayed, allowing you to write texts without complications.
This does not mean, however, that Android Remote Desktop does not have its problems. The connection made between the devices, for example, result in certain slowness in the response commands, sometimes leading one or two seconds to click a mouse movement or function. The delay is small but perceptive.
Why just be a standard Android keyboard, the keyboard on Android Remote Desktop can also prove less useful. The fact is that there are no buttons as Ctrl, Alt and Delete, therefore you will not be able to use the PC with full efficiency with programs that need them.
It is curious to notice, however, that these defects are not a big problem – for the vast majority of cases, Android Remote Desktop will suit perfectly for your purposes.
Simple and easy to use, Android Remote Desktop can prove a great tool to load onto your phone or tablet. Of course, it does not replace the precision and options of the good old mouse and keyboard, but it's still a good option.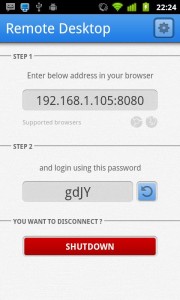 Download Android Remote Desktop