Polaris Office is an application that allows you to view, create and edit Microsoft Word, Excel and Power Point. Additional way, the app also allows you to view PDF files.
With a very simple look, when it first starts, the user can navigate the folders from your Android looking for files to be edited or simply shown. In terms of compatibility, the application has the ability to view and edit multiple versions of Microsoft Office documents.
Editing Documents
To edit an existing document is very simple, just a user to access the "Document" icon in the main menu, and go to the desired file. Once opened, the menu button on the device should be touched. In the options displayed, the user should select the "Edit Mode" option. Then he can start with your editing.
Document Creation
Through the "+" button in the left corner of the main menu, the user can create their own documents from Microsoft Word, Excel and Power Point type. Through a sliding menu at the bottom of the screen, he can choose the desired formatting.
Saving Documents
At the end of editing a document, the user must touch the device's menu button, and from the options displayed, select "Save". That done, a new screen will open; it should tell you the file name and location where it is saved.
What are you waiting for? Download now Polaris Office, and edit your documents on your own smartphone or tablet.
Review
The Polaris Office application is the perfect choice for those who want to view, create and edit Microsoft Office documents on your Android device. For those looking for viewing PDF files type, the app also does not lack.
Although free, the application shows that it was well developed. Through a beautiful, fluid and intuitive interface, your users can navigate fairly uncomplicated way through the features available.
A positive aspect of Polaris Office is that it has compatibility with various versions of Microsoft Word. For example, when creating a text document, the user can indicate whether you want it to be compatible with versions 97 through 2003, and then with the 2007 version of Microsoft Word. The same also applies to Excel and Power Point.
For those who want to store their documents in the cloud, the application has the option to send the files to your Box.net service. To do this, the user must register with the service, which offers free, 5 GB of storage space. Unfortunately, the app does not allow you to share files with other types of services.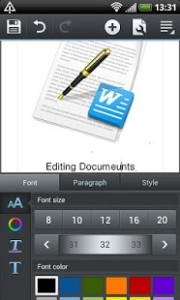 Download Polaris Office For Android