The Virtual CloneDrive is a program that creates virtual CD drives and DVD work as any physical drive. The difference is that one need not make more space for the CPU component, since it works within the operating system. What the application does is to assemble digital images of disks, simulating a drive that does not exist physically.
For example, if you download the image of Ubuntu 9.10 Karmic Koala and want to test it before you burn a CD, the best thing to do is to appeal to CloneDrive . With a few clicks the program will emulate a CD drive, so that the entire contents of the Ubuntu image is accessible as if it were a disk with the operating system on the physical drive of your computer.
This freeware supports all three major image formats: ISO, BIN and CCD. In total, 8 virtual drives lets you create CDs or DVDs simultaneously.
Requirements:
Processor: 500 MHz;
RAM: 128 MB;
Windows.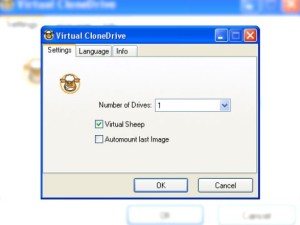 Download Virtual CloneDrive