One of the biggest complaints from Internet users in india is the issue of download speed. As the connection rate is variable, it does not always tip within the parameters offered by the operators. The techuism already addressed some tips to resolve connection problems. But what about checking how is the connection speed of your PC. With TCP-Z besides checking this you can change some properties to optimize the bandwidth usage of your internet. Installing and Configuring TCP-Z Installation of TCP-Z is simple. After downloading the file, unzip the folder. RAR. A new folder named tcpz_20090409 will be available. Inside tcpz run the application. The installation is automatic and you can choose between several languages.
With TCP-Z running in real time you check your download and upload speeds, file and memory limits, information about the network adapters and details of system processes in progress. patch tab you can change the threshold value the half-open directly into memory. This value remains valid only during your connection. After restarting the system, you should ~ and insert it again. The program gives the option to change the file system TCPIP.SYS through a virtual device that can run on the same tab.
Although it is a simple to use program with friendly interface and Portuguese, is recommended to take some care when changing certain values ​​of connection, especially if you use a shared network.
You know how it is to walk your connection, it is often the first step to identify any potential problems. Often you do not need to wait for the operator to solve a problem, even if you simply configure your access according to their needs. TCP-Z it provides simple and effective way, with a friendly interface and explanatory in some points. However, it is always advisable to have some familiarity with the subject before making any changes.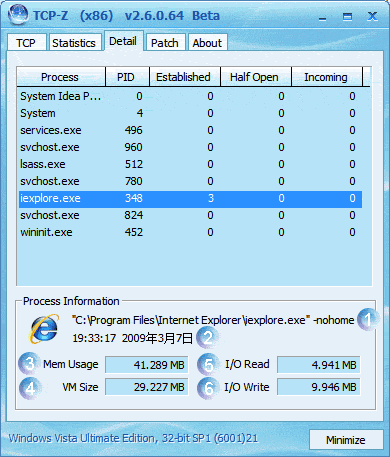 TCP-Z Download