Here in this, article we are going to tell you About Dropbox? and How one can use it?
Documents, photos, videos, audios, there are so many digital files that we accumulate in our computers, and these files which over time can give problems or can be attacked by malware, it forces us to find the best way to make backup copies of all that material.
In general, users often choose to make backup copies of their files on hard drives where the existence of the files in question is doubled, with external drives being the preferred ones, however, this type of artifact may fail way than a traditional hard drive.
In addition to this, when we need to access any of these files outside our home, or when we want to share some of that material, the task becomes somewhat complex and sometimes even impossible to carry out, so it is most recommended to be able to do a backup in the Cloud, which will undoubtedly improve our traditional method of local storage.
Within the Cloud storage services, one of the most successful so far is undoubtedly Dropbox, since even from a free account we can access an interesting number of functionalities, which configured correctly and it allows us to perform various tasks.
What is Dropbox for?
It is important to note that Dropbox is an ideal service to store our files and keep them synchronized at all times in the Cloud and at the same time thanks to the services given by the mobile application we can connect Dropbox with our mobile devices, since there is a version of the app compatible with Mac, Windows, iPhone, iPad, iPod, Android, and Windows Mobile.
From our PC or laptop, we can access Dropbox files in a very comfortable way through our favorite web browser, from the official website www.dropbox.com, or by downloading the application for our computer. In short, to use Dropbox we only need an Internet connection.
Well, if you are about to start using Dropbox and you can also take advantage of Dropbox service, we recommend you continue reading this article, here you can find out the steps on how to create an account on Dropbox and use Dropbox.
Create an Account :
To start using Dropbox the first thing we must do is create an account on the website of the service, there we will be asked to enter a username, an email address, and a password.
To register in Dropbox we can also choose to directly use our Google account. It should be noted that during registration we must tick the box indicating that we accept the Dropbox service conditions, to finally click on the "Create account" button.
It should be noted that when we register for the first time in Dropbox, a free basic account will be created by default in the service, so when using it we will not have to pay any money for it, but it will have certain limitations.
In this sense, we must highlight that the Dropbox service offers three types of accounts, one of the free type that gives us a total of 2 GB of storage at no cost, one of the Pro type that includes up to 1 TB of storage for a value of approximately $10 per month, and one is designed for business, with unlimited storage and at a cost of about $15 per month for per user.
Here we will focus on the type of free personal account, which will surely be the service we choose to use when starting to use Dropbox.
File sync in Dropbox
Once we have started using Dropbox, the ideal is to install the application for desktop computers, which we can find for free by accessing from our account.
When we install the Dropbox application on our computer, a special Dropbox folder will be automatically created on our PC, so we can start saving files directly without having to manually upload them through the browser.
Every time we store a file in our local Dropbox folder, they are automatically synchronized with the Dropbox service, that is, we do not have to do any extra steps, and this also means that those files will be available to be consulted from other devices on which we have access to our Dropbox account.
In general, files tend to synchronize fairly quickly, although of course, the delay of the process will always depend on the bandwidth of our internet connection.
On the other hand, in order for file synchronization between devices to be possible, we must take into account that it will be necessary for us to install the corresponding Dropbox application on each of our mobile devices and to log in with our user account in the service.
Share files with this Cloud Storage
One of the great facility that Dropbox offers us is to be able to share files with other users, and this procedure can be carried out through two different methods, and the only requirement is that the file that we are going to share is synchronized with Dropbox.
The first method is to share the file through a link, for which we must access the Dropbox website, start our account, and choose the file. We can also share an entire folder, so every time a change occurs, the people who share that folder will be notified.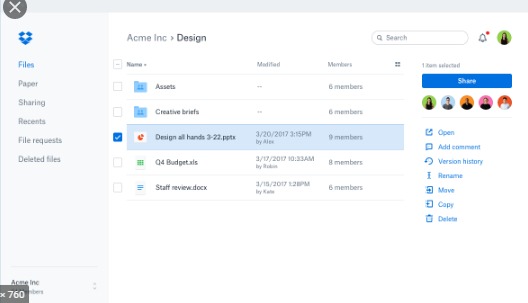 At the end of the selected file we will find that when passing the course on the desired file, the "Share" button appears, on which we must press. We can also do the procedure by clicking with the left mouse button on the file, and selecting the share option from the drop-down menu.
Then a box will be displayed in which we can choose the option to share the file with someone who has a Dropbox account, by entering the email of the person in question, or by clicking on the item "Create a link", with which will create a custom link specifically for that file.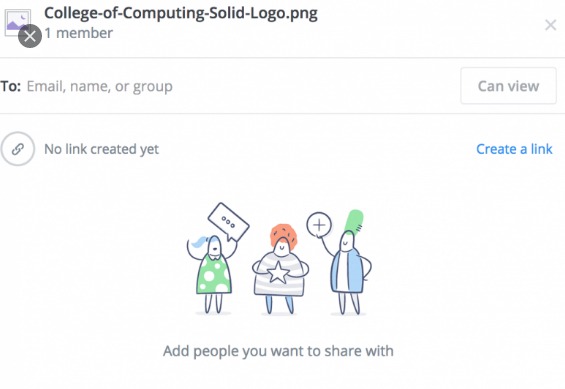 We can share that link as we wish, and it will always be assigned to the chosen file as long as that file is not removed from Dropbox. It should be noted that this way of sharing content is limited since the other person will have read-only access to the file or folder that we have shared.
The second option for sharing a folder with others is to choose to share an entire folder collaboratively. To do this, click with the right mouse button on the folder in question and click on the "Share" item.
In the following table, we can enter the people if we want to have access to this folder, to get access we must use the Dropbox service. In addition, in the box that appears when you press "Share," we can choose the options for the said folder, by clicking on the "Folder Settings" link, where the types of permissions that we wish to grant to each collaborator will appear.
When all the procedure is done, the person with whom we have shared the folder will receive an invitation to access it through their own Dropbox account. It should be noted that in addition to having access to all the files in that folder, other people will also have the possibility to edit the contents of it.
Restoring files in Dropbox
Despite the fact that we have chosen the Cloud as the means to make synchronized backups of our files, it is true sometimes by mistake we delete a file or document which we did not want to delete.
The good thing about Dropbox is that it offers us a very simple procedure to recover those files that we may have accidentally deleted.
To do this, we log in to the Dropbox website and go to the folder where the file that we have deleted was located. Then click on the button with the trash icon, the name of that icon is, "Show deleted files", which we will find in the upper right part of the screen.
We will see that after that a page will be displayed showing all the files that we have removed from that folder, and we look for the one that we need to restore to click on it with the right mouse button and then click on the "Restore" option from the drop-down menu.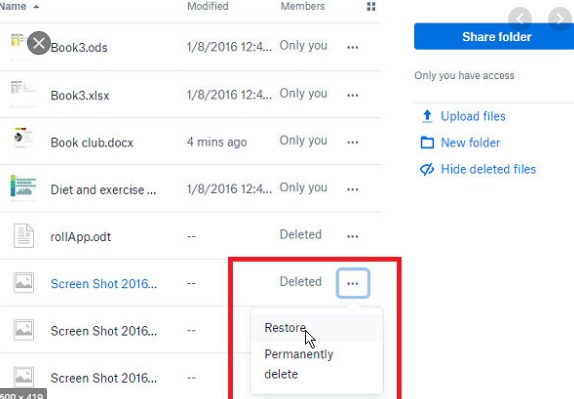 It should be noted that if we have a free Dropbox account, the files are kept in the trash for a maximum period of 30 days.
Create a file request in Dropbox :
In the event that we need other people to share files with us through Dropbox but do not have an account in the service, we can resort to using the Dropbox file request function, which basically gives us the possibility of creating a special folder with a single function, in which other people can send those files to us through Dropbox without the need to collaboratively share them in a folder.
To do this, we must click on the item "File requests" that appears in the user menu on the left that is displayed on the main page of our Dropbox account.
After that, we must click on the button "Create a file request". Then, in the following table, we must indicate which files we want the other person to share with us and what is the destination folder for these documents. Finally, we must click on the "Next" button. For Example, you can see in the below picture :
With this procedure, a file request link will be created, which we can copy and paste to send through email, a text message, a web service, or other options.
With this, the people we want to include can send us even large files through this Dropbox folder, without having to keep a collaborative folder over time.
To delete the file requests from our Dropbox account, we only have to click on the "Edit" button of said folder, and after that in the drop-down box click on the "Close Request" button.
These are some of the basic functionalities that we can take advantage of in Dropbox as soon as we have started as users, but the truth is that over time we will be able to make this service one of the best cloud storage services.