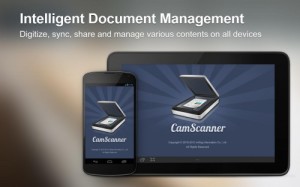 The smart phone is always to hand and in the rule with a fairly potent camera nowadays. Some productivity apps use this to their advantage and allow you to photograph documents to make them comfortable to manage on your smartphone. CamScanner Pro , a particularly successful example of this apps, thanks to a special promotion, is currently available free of charges.
The idea is simple: With the phone cam is photographed from documents that optimizes the image for readability and assigns the result to its digital archive. Meanwhile, there are some apps that use this approach – each with its own focus and as so often it's the details that separates the wheat from the chaff.
CamScanner is the proverbial wheat, the app offers but particularly in the paid Pro version several ways perfectly capture documents, classify, and after them later on. Special features include the correction angle that aligns also obliquely photographed documents correctly, the cloud sync and an OCR module (Optical Character Recognition) makes the photographed text searchable. Visually oriented application , however a little too much to our liking on iOS design, only menus are kept in the holo-style.
Refers to the Pro version with all features from the Play Store, not quite favorable 3,99 EUR will be charged. However, currently running a campaign to celebrate 60 million users, unlocks at a simple registration, the Pro version for free – for life. It works like this:
First you visit the official website of CamScanner and register for free with his email address. Registration is confirmed on the link in the email received and then loads the app via QR code or Play Store down.
On the official website you will be asked to spread the offer on the social networks – but this is not necessary. If you log in now with his account of the app, a pop-up confirming the receipt of the full version and the activation of all features.