You all know the Galaxy Gear , the Samsung smart watch and his proposal to try to be the perfect companion for your smartphone Galaxy, with features but at this point might not seem revolutionary, if you are quite interesting and even practical and attractive for few.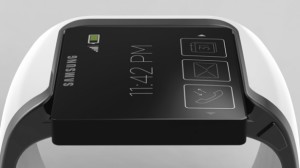 We know it is the first device of its kind to be launched, as even before Sony did it with his SmartWatch and its successor the SmartWatch 2 , but it is the first of Samsung , which becomes more important because at this time the Korean company is in the top segment of smartphones globally and is probably living its heyday as a company since it was founded, which causes almost any new release will magnify and capture the attention of the industry to see what kind of innovations can present.
And the segment of smart watches seems to be gaining much strength for several months, to the point that they will announce the Samsung Galaxy Gear , speculated about it for months, as is still done on a possible Apple clock from Microsoft and some other major industry players.
With all this and try to position the Galaxy Gear between the taste of the users, Samsung released the first device business , which in some way appeal to nostalgic people, referring to movies, series and cartoons science fiction of yesteryear and some a little more recent, in which the common denominator was the presence of a smart device type wristwatch , which at the time were seen by viewers as a revolutionary gadget whose existence was only possible in fiction .
But now, with the help of Samsung, has somehow been possible to realize this revolutionary object previously existed only through television or film, or at least I want to show the Korean company.
I do not know if the Galaxy Gear reach sales levels similar to those of any of the phones or tablets successful Galaxy series or not, but beyond that, personally, I think this ad campaign is very good , since many people had a childhood in which dreamed of having a watch that could do things like Star Trek, Dick Tracy, the Jetsons, James Bond, Inspector Gadget and Power Rangers and now, that time has come and somehow has actually made ​​bracelet device with which we can answer calls, take pictures, send messages , among other things, that today seem not amaze, but that just a decade or two ago would have made ​​anyone wonder , it was almost unthinkable that something well could be real.
Sure, the concept that perhaps many would expect, is that at some point a smart watch could not only be a complement to a smartphone, but have t ode phone functionality without relying on it, to get out of the house or office with only the watch on the wrist if they want, but then you can surely come soon.