Samsung Galaxy Note throws with 8.0 high and positions them in the tablet market for more business user. The appearance will not lie, the shiny white plastic gives the tablet a chic appearance and in combination with the standard S-pen hidden in the housing gives the Note 8.0 a real Star Trek feel. I do me best to try out the challenge: the Galaxy Note 8.0 replace my iPad mini? And what is that, that pen on the side?
My first impression starts similar positive: the packaging is made from 100% recycled material and the print is printed with soy-based ink. Look, I love a pretty simple product that responds to global issues. Back on the packaging specifications of the Galaxy Note 8.0, hefty processor, lots of RAM, GPS, infrared and a good battery. That promises a lot, let's see what actually provide the device. Now I change my mind, GPS! It has a standard iPad without 3G not. The first advantage is a fact.
Wow. White, bright shiny shiny white. The screen is quite a framework that you can not avoid it: you have a huge white tablet in your hand with a silver border around it. Doing most reminiscent to the edge of the iPhone 4 (S), and as long as it remains in a wink you will not hear me complain. The Galaxy Note 8.0 is nice in the hand, the plastic casing gives the same feeling that you have to be careful and maybe it is a good first impulse. Yet it all feels solid and sturdy and properly used by plastic and the slightly thicker casing shoot this device not just from your hand.
At the front we find the usual business of a Galaxy product. Below the screen are the physical home button and highly sensitive back button and menu button in the form of illuminated touch keys. Especially if you have the Galaxy Note 8.0 in landscape mode holds you get used, is sensitive in this case really sensitive. Above the screen are two black dots, in this case, the front-facing camera with 1.3 megapixel quality and light sensor. At the bottom is the micro-USB connector and the recesses where the sound comes from, at the top you will find the 3.5mm audio jack. Although I now my sound with my Bluetooth devices let yourself get this port is of course just useful if you watch TV or movies on your tablet and you do not want to disturb environment.

On the right side of this tablet look from top to bottom: the microphone on / off button, volume control, the infrared port, and completely under the S-pen is processed in the corner. This is actually a break from the silver rush, since the button on the pen as crisp white as the rest of the tablet. In the middle of the back, like a pimple subcutaneous, is the 5 megapixel camera, while the left side is the micro-SD slot where you can. Maximum 64Gb of memory plugged For business use that has not much value because all Galaxy products are closely intertwined with Dropbox, so if you want to have available a lot of music and / or films such memory is even a must.
And then the pen, the S-pen.
Nice megalomaniac named to the manufacturer, who 'S' stands for Samsung obviously. They have also a bit right, it is a multipurpose pin that you used too back found in PDAs, this S-pen in combination with the Samsung Galaxy Note 8.0 is quite a nice combination. When removing the S-pen right opens a note that you can describe with the pen. This is all standard feature on the Galaxy Note. Writing feels very natural, and the advantage over any other stylus I've used so far is that the S-pen has a sharp point.
Not so long ago on this site has been a review of a qmust stylus, and there are also solutions from brands like Wacom and Griffin. Without exception, these pens are equipped with a point which can be compared to the end of a sausage. The best Indeed, in South-East Asia was coming out of one of the previous generation iPhone a fad to operate it with a sausage a very funny and worth. Googling
Moreover, the S-pen is multifunctional. There is a button on the side so that the pin turns into a sort of digital knife: when the button is held and a perimeter to create an object, for example a photo, you cut this object. You can edit images, that way all very funny.
But whether that value is an 8 "tablet business?
Display
According to the statement of the Samsung Galaxy Note 8.0 a 8.0 WXGA screen with a resolution of 1280 × 800 with Type Super Clear LCD technology. Thanks so beautiful, but what is that? Ultimately, it is a fine screen. Tight and plays HD video and the screen brightness is adjustable and of course there is a vending machine so that the Galaxy Note 8.0 delicious decides how high the brightness to be adjusted. The latter, in particular, my preference, if I every time I have to go make the discs first turn the brightness down, Im sick of fast. The adjustment itself is moreover useful hidden in the drop-down menu, right below the keyboard shortcuts for wifi, bluetooth, etc etc. There is also the key for smart sleep can be found: Samsung claims that the Galaxy Note 8.0 to detect when you may or may not look at the tablet in order to turn off the screen and save energy. Ive tried it, it works, however if you head just turns away something from the top of the screen is pretty quick message Slim slumbering eyes can not detect. That message was for my taste a bit too fast and too often, I have the function becomes quite smooth off. Compared to an iPad mini screen has better specifications on paper, yet the user experience not compete with the mini scion of Apple. The screen of the Note is slightly narrower and longer and the greater proportion of 19-6, the screen of the iPad has in my opinion a better display of colors. To compare this, I installed the game Real Racing 3 on both devices, in terms of representation came the iPad as the winner from this completely non-scientific comparison.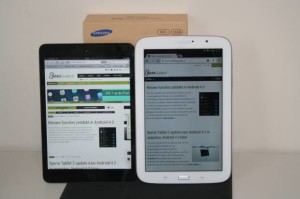 What is also striking is that the edge of the screen a small black border is. That would not normally notice, but because the Galaxy Note 8.0 is white so you have this yet fast in the holes. Annoying is not only striking. Audio There is a nice sound from the Galaxy Note 8.0, unfortunately, as you can expect from a mobile device was somewhat shrill. Because I had not been so quick to hand an SD card with music I have the app '22 Tracks' installed. The Latin sounds of Carlos Embale seems even though a synthesizer orchestra served? After the tablet quickly and smoothly mated with a bluetooth speaker was definitely not the case, the quality of the built-in speakers which at first sight seemed pretty reasonable, can not really help further insight '22 Tracks' is also a must on any device because of the many types of music that you can find. After installation an error came up in the app: the app only works in portrait mode, and then also in a weird, moderate resolution. Does the app than the Note 8.0 phone? A tour of the Play Store does confirm this suspicion, in terms of software, the Samsung Galaxy Note 8.0 just a great phone! Hence the unusual aspect ratios of the app on the screen. a comparison of the Facebook app with the iPad version seems to confirm this … what a music test can reveal all! handle 'music' in general.
Performance
Today, the Samsung Galaxy Note 8.0 come with great competition, thanks to the hefty quad-core processor at 1.66GHz clock speed and big 2Gb of RAM is there on paper nothing to be desired. However, when comparing the aforementioned game Real Racing 3 fell on the Samsung Galaxy Note 8.0 stammering something more performance than the iPad mini, the specifications on the inside still a lot less on paper with 800MHz clock speed and only 512Mb RAM.
What can you expect from a tablet whose manufacturer says designed for the business market? That performance over 3 years still fine join. And frankly I doubt it.

Battery

For business use, the Samsung Galaxy Note 8.0 also applicable. The battery keeps, with heavy use, just a whole working day to 10 hours full. In other words, it is sufficient to navigate to your first appointment,'s push to get through tomorrow, manage calendar, and here and there some information to look up your mail. Within
Would you also use it to start giving presentations, I recommend an additional power pack to buy, present costs in general a lot of energy. More about this in the next section.
Connectivity

Initially, the Samsung Galaxy Note 8.0 ordinary plug-and-play features like you're on a mobile device used. So, bluetooth keyboard, headset, speakers, all a piece of cake. Wifi connection ditto. Setting mail, calendar, contacts, everything on the menu is good Dutch translated making it really easy to do.
A business tablet, but still want to use with a projector? After all, otherwise you might as well keep walking. With your laptop And since the average business laptop 2 to 3 whole kilograms heavier than the Samsung Galaxy Note 8.0 there seems to be achieved. Quite a benefit I've pretty much seen and presentations, but a Samsung I have not seen before mounting. Beamer I had to google so here. Result: yes it can, but. There is a but. Samsung has a kind of Apple TV-like solution that can display. Using a wifi signal presentations with a HDMI device In my experience business networks in general communication between devices difficult to leave, and also the average projector in my practice that I did not come for HDMI.
Fortunately, there are simply VGA solutions, third-party, and moreover these have a limitation: in the generations after the Samsung Galaxy Tab 2 is Samsung a few things changed in the micro-USB port allowing additional adapter required the video signal to be converted to a VGA signal.
For me, this is too much hassle, Apple has two types of connectors: VGA out and HDMI out. And for your sound you again two possibilities: With HDMI you provide, in the case of VGA need to use a separate audio option. Also here are two possibilities: via the audio jack, or via a Bluetooth solution. Oh and did I mention that there is a very fine app for iPhone and iPod, Keynote Remote, which lets you wirelessly control your presentation? Road ahead …
Does this tablet than any unique features? Yes! An old and trusted infrared port! And a very clever app that make all the remotes in the living room at once superfluous: Peel Smart Remote. Standard installed on the Samsung Galaxy Note 8.0, you open the app, set the brand of your TV, and with the greatest ease imagine the television. The next question is: "do you use a digital receiver? And even that is set. Next you select the HDMI channel on the TV and you can set the receiver so that the sound from the 5.1 channel can be controlled … With your Samsung Galaxy Note 8.0! I've never laughed at a tablet, this worked amazingly well, fast, and easy. The only downside we could find is the focus on non-Dutch channels. But who are all set in the favorites list. Maybe a little ahead, yet anyway.
Software & Usability
It is surely noticed that I have from Samsung, or Android for that matter. No high cap When testing the Samsung Galaxy Note 8.0 I must admit that I was very surprised by the possibilities. Mail, calendar, cloud drives, everything is smooth and quick to install and set up. Then it looks like a piece of cake to get all mail within even if there should be pushed from 4 different mail servers is all neatly and without hitches inside. The pre-installed Android 4.1.2 running smoothly and the included standard Samsung apps are certainly convenient. The business nature can be betrayed here by Polaris pre-installed come with the Samsung Galaxy Note 8.0 . This application works with. Doc,. Xls and. Ppt and share these files with Dropbox account set. This all works pretty well, managing a Dropbox is not allowed in any company, look at Edward Snowden, but is an excellent solution. 're Preparing presentations simply using the familiar micro-USB to the memory of your Galaxy Note, in this respect are therefore plenty of opportunities to the Samsung Galaxy Note 8.0 business to assemble. Course
A funny but definitely serious defect can be found in the software of the S-pen: the notes can not be sent by mail to colleagues or a secretary. This would improve the functionality of the S-pen, note software and the tablet as a whole considerably. Yet I have something to say on the Samsung Galaxy Note 8.0: why does any act really a separate sound? And therefore does not sound like a tap or click, but if I go through the water with my finger / S-pen? In the beginning it is pretty funny, but if I want to use my tablet for notes in a meeting so I must first adjust all system sounds or off. The Chrome browser is poor. The address 'floats', ie it disappears when you scroll over pages, with the result that the top of a page in the first instance is not completely visible when you open a page. Especially when logging supplies that confusion, since on most webpages button to log in at the top is processed.
Plus and minus points
+ Retro looks
set acounts + Easy
+ Battery performance
+ remote!
+ Free 2 years 50Gb extra storage in your Dropbox
+ S-pen
– Plastic fantastic
– Smooth
– Phone interface of different apps
– Address Bar in Chrome hides buttons
– Display better on paper than in real life
– Huge battery needed because of hefty processor
– What 'business' to edit photos with the S-pen?
– Business anyway? No …
Conclusion
I like the Samsung Galaxy Note 8.0 genuinely a nice tablet. The pin is funny and you use in the beginning if it were a mouse and that's just fun. You cut there once a sun with a photo of what the first time is quite nice.
But: We have two iPad's home. At number one is mostly shopped, played games, the TV guide and consulted google is permanently open. Number 2 is full of presentations, has a standard VGA connector on the Lightning port hang and features a 3G connection because this iPad is permanently traveling.