Silk is an online service that allows you to organize and publish several collections of information. Through the program, you can gather data, maps, reports, internet addresses and more, in a very practical and organized interface.
Use Silk may seem complicated, but it is not. For clarity, let's assume that you are interested in organizing a list of the coffee shops we visited . You can add a variety of information such as location, hours of operation, services offered, pros and cons and even the quality of the coffee.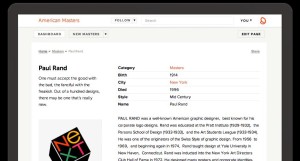 Share or keep private
Silk will display this information in a functional way. Besides creating all this database, you can share this information via Facebook, Twitter or through a link. You can also view and filter the content in various ways.
The program also provides a private and secure option for you to share information, projects, management tools and other resources with your team. That way, you can implement various data stored in documents on an interactive map.
The options are numerous and show the versatility of the site. All numerical information can be easily converted into charts and graphs. You can work together with others, keep the private site, subscribe to several other sites, conduct research, divide the information into blocks and even convert Excel spreadsheets.
Silk is a great tool to create simple sites formed only with data, maps and information. The program is ideal for sharing information personalizas with ease without the need to create a website.
Besides practical and organized, Silk is also very beautiful. The program inserts the data in order to create fantastic presentations without requiring any ability to design or editing, since everything is done automatically.
An information center
Silk is also very, very easy to use. All you need to do is add the data into the fields for the program to transform the information into reports, presentations, charts and graphs. Thus, anyone can work with simplicity.
The program also intends to be a central enterprise information. You can grant access only to authorized personnel to view a site, allowing you to create a private network data.
Produce and display to the world
The program allows you to create multiple websites with custom addresses, and allows sharing them via a link or by Twitter and Facebook. If you choose, you can keep the information secret, just for your viewing.
Find information on Silk is also simple and practical. The program is able to display and filter data so that users quickly find what they need. Thus, your fingers are always on hand with just one click.